We have Android App! Install our App and watch Movies and TV shows anywhere from your smartphone or tablet.
>>> DOWNLOAD APP <<<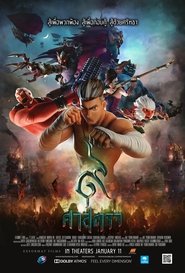 The Legend of Muay Thai: 9 Satra
With "Ott" father's last hope to take back Ramthep City where is now occupy by Asura (Giant Race), the boy was trained the martial art of Muay Thai for the mission of delivering 9 Satra, the sacred weapon to the Prince of Ramthep. As Ott began his journey to the city of Ramthep, he has become friends with a pirate girl named Xiaolan, a kind Red Asura and Va-ta, the prince of monkey.
Duration: 102 min
Release: 2018