We have Android App! Install our App and watch Movies and TV shows anywhere from your smartphone or tablet.
>>> DOWNLOAD APP <<<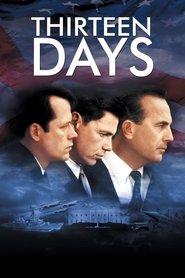 Thirteen Days
Dramatisation of the Cuban Missile Crisis, the nuclear standoff with the USSR sparked by the discovery by the Americans of missle bases established on the Soviet allied island of Cuba. Shown from the perspective of the US President, John F Kennedy, his staff and advisors.
Views: 587
Director: Deirdre Horgan, Roger Donaldson
Actors: Bruce Thomas, Caitlin Wachs, Drake Cook, Janet Coleman, Jon Foster, Kevin Costner, Kevin O'Donnell, Lucinda Jenney, Matthew Dunn, Shawn Driscoll
Duration: 145
Release: 2000