We have Android App! Install our App and watch Movies and TV shows anywhere from your smartphone or tablet.
>>> DOWNLOAD APP <<<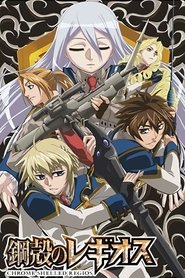 Chrome Shelled Regios
Chrome Shelled Regios is a Japanese light novel series by Shūsuke Amagi, with illustrations by Miyū. A short story light novel series is serialized in Dragon Magazine. A manga adaptation drawn by Miyū is serialized in the shōnen manga magazine Dragon Age Pure. A second manga adaptation drawn by Nodoka Kiyose is serialized in the shōnen manga magazine Monthly Dragon Age. A third manga adaptation drawn by Watari is serialized in Beans Ace magazine. A four-panel comic strip adaptation drawn by Masumi Futaba started serialization in Monthly Dragon Age on November 8, 2008. A science fiction light novel series titled Legend of Regios is set in the past world of Chrome Shelled Regios series, and published by Fujimi Shobo under its Style-F label. An anime adaptation produced by Zexcs aired on January 11, 2009 to June 20, 2009 and is licensed in North America by Funimation Entertainment.
Views: 26
Genre: Action & Adventure, Animation, Drama, Sci-Fi & Fantasy
Actors: Akeno Watanabe, Ami Koshimizu, Asuka Ōgame, Ayahi Takagaki, Daisuke Kirii, Daisuke Sakaguchi, Eri Sendai, Fuyuka Ono, Hajime Iijima, Hiro Yuuki, Kishō Taniyama, Mikako Takahashi, Nakahara Mai, Nobuhiko Okamoto, Saki Fujita, Takehito Koyasu, Takuma Terashima, Yōji Ueda, Yui Kano